---
This Is Cool
---
http://chrisharrison.net/projects/bibleviz/index.html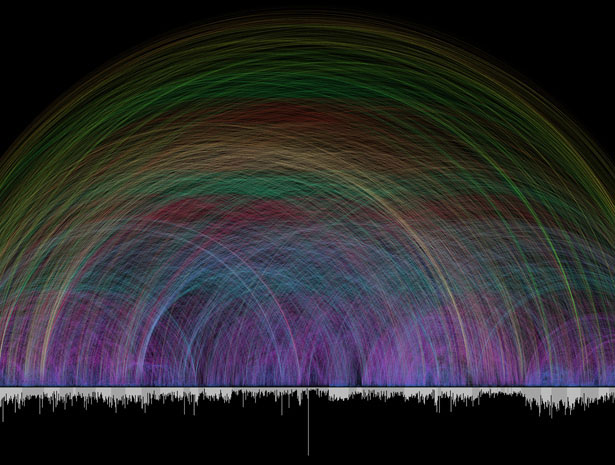 ---
Stuff Brains Do To Mess With Our Heads
---
This is a reference slide for a series of nuclear magnetic resonance images taken of my head in 2004. The photo quality is deliberately poor since there is a great deal of personal information on this image. The reason that I had the nMRI is of little consequence now - everything turned out just fine (for anyone who cares).

There is, however, something singularly disturbing about this image to me. In the Image, I am facing to the left. Notice the White/Grey/Green area on the bottom right of the image. It is the lower portion of my head where it connects to my neck. It's fat. Neck fat. I could store my credit cards back there.
Using Neuromarketing Techniques In Data Visualization & Presentation
This led me to think about how my eyes were drawn to the most boring and least important element of the image. Forget the mind or the soul. Forget the abilities to create and destroy inherent to every human brain. No, my eyes saw something light in color and smooth in texture so my attention was focused there
Using colors, textures, placement of objects, order of prices on the pages of catalogs to influence your feelings about purchasing products is a tried and true technique for selling everything from socks to corporate jets.
It's the suckers who head to the mall and pay the listed price for their shiny objects, right? Then again, online stores have just as many tricks up their sleeves. Blue backgrounds are used to convey the comfort and calm of an item, and your decision. Virtual catalogs are filled with high-price items they'll never sell, to make mid-range items more appealing, and vital text is placed to the right of pictures, while less appealing facts are on the left. When you're facing the power of consumer research, do just like a shopping trip: make a list, name a price, and stick to them both.
Why do infomercial hosts insist on telling you what "you'd expect to pay" for any item they're about to price? Because the "Anchoring Effect" works. A salesman tells you that the golf clubs you're looking at cost $1,200, you scoff, and suddenly he's noting that, this week, they're on sale for $599. Your brain remembers the first number, it sets the second number against it, and it looks like you'd be stupid not to pick up this deal—no matter how ridiculous the first price.
[Most of this is off Youarenotsosmart.com except for the picture of my hideously fat neck]
---
Social Psychology of Visual Perception
---
We know a great deal about vision but very little about perception. Providing an adequate portrayal of the psychological meaning of perceptual experience has proved to be far more elusive that specifying vision's informational bases in optical structure and ocular-motor adjustments. This is as true today as it was a half century ago when Jerome Bruner and colleagues launched the "New Look" in perception. Emily Balcetis and G. Daniel Lassiter have compiled an outstanding collection of chapters in the Social Psychology of Visual Perception, with each contribution providing compelling evidence that social and emotional factors contribute to the psychological meaning of perceptual awareness. This is a book that will inform and delight anyone interested in the psychology of everyday perceptual experience." - Dennis R. Proffitt, Ph.D., Commonwealth Professor and Chair of Psychology, University of Virginia, USA
"Perception depends on perceivers, and human perceivers are inescapably social. This intriguing set of papers describes some of the intricate ways our social sensibilities affect how we see, illuminating both perception and social psychology." - Barbara Tversky, Ph.D., Teachers College, Columbia University, Stanford University, USA
---
Depth, Reversibility, and Figure Completion
---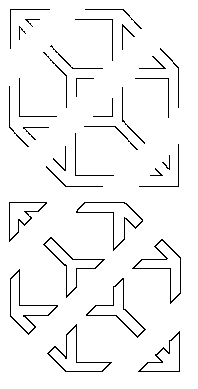 When you look at the top figure, your visual system will organize the elements into a box. The box will reverse, as in the Necker Cube illusion. The elements in the bottom figure have terminations and do not readily group into a box figure that shows reversals.
The Necker Cube is used in epistemology (the study of knowledge) and provides a counter-attack against naïve realism. Naive realism (aka direct or common-sense realism) states that the way we perceive the world is the way the world actually is.
The Necker cube seems to disprove this claim: we see a cube, but really, there is no cube there at all: only a two-dimensional drawing of twelve lines. We see something which is not really there, thus (allegedly) disproving naïve realism. This criticism of naive realism supports representative realism.
The effect is interesting because each part of the picture is ambiguous by itself, yet the human visual system picks an interpretation of each part that makes the whole consistent. The Necker Cube is sometimes used to test computer models of the human visual system to see if they can arrive at consistent interpretations of the image the same way humans do.
---